You can call SHARE at any time of night or day, any day of the year at 203-432-2000.
You can also call or email us directly by phone or email. Below you will find contact information for each staff member as well as information about their role at SHARE and professional background.
---
Jennifer Czincz, Ph.D.
Director
203-432-0310
jennifer.czincz@yale.edu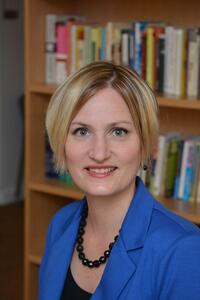 Role at SHARE: Jennifer became the Director of SHARE in 2018, after serving as the Assistant Director of the department since 2012. In addition to overseeing the operation of SHARE, Jennifer also provides direct services to members of the campus community including on-call response and both supportive and short-term trauma-focused therapy for issues related to sexual misconduct. She also represents SHARE on the Title IX Steering Committee and Campus Resource Team (CRT) at Yale. 
Background: Jennifer is a licensed Clinical Psychologist and Assistant Clinical Professor of Psychiatry at the Yale School of Medicine. She provided clinical services at the Yale Department of Mental Health and Counseling between 2011 and 2018. Jennifer is a native of Canada, and completed her Clinical Psychology Ph.D. at the University of Ottawa and received an undergraduate degree in Psychology from the University of Western Ontario. She came to Yale in 2010, where she completed both her Predoctoral and Postdoctoral fellowships. Jennifer also serves as a clinical supervisor at the Forensic Drug Diversion Clinic at the Yale School of Medicine. Her training has focused on the treatment of trauma, systemic approaches to psychological interventions (including prevention and education initiatives at the community level), and work with survivors of sexual misconduct and childhood sexual abuse.  
Pronouns: She/Her/Hers
---
Cristina Cantu, LCSW  
SHARE Counselor
203-432-2610
cristina.cantu@yale.edu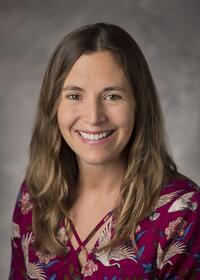 Role at SHARE: Cristy is a Licensed Clinical Social Worker who has been at SHARE since 2016. She specializes in providing supportive and short-term counseling for issues related to sexual misconduct, and facilitation of student groups. She also provides on-call response and advocacy for students, staff and faculty.  
Background: Cristy has been a Licensed Clinical Social Worker since 2007.  She received an undergraduate degree from Hampshire College in Anthropology and Latin American Studies, and a Master of Science degree in Social Work from Columbia University. Cristy started her career in social work in the field of Pediatric HIV at Harlem Hospital. Later, as a post-graduate associate at Yale Child Study Center, she provided home-based assessment and treatment to families. Cristy has also worked with adolescents and adults providing psychiatric assessment, and individual and group therapy.  Her theoretical orientation is mindfulness and strengths-based.   A native of Mexico, she is bi-lingual in Spanish.
Pronouns: She/Her/Hers
---
Anna Seidner, LMSW
SHARE Counselor
203-436-8217
anna.seidner@yale.edu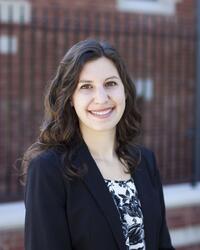 Role at SHARE: Anna joined the SHARE team in June 2018 and serves as a full-time counselor at the center. Her focus is on providing direct services to members of the Yale community, including on-call response via SHARE's 24/7 hotline, facilitation for student support groups, individual supportive counseling, and short-term trauma-focused therapy for experiences of sexual misconduct. 
Background: Anna is a Licensed Master Social Worker (LMSW). She received her Bachelor's Degree in Human Rights and Hispanic Studies at Trinity College in Hartford, CT and holds a Master of Science in Social Work Degree from Columbia University School of Social Work in New York, NY. As a part of her graduate studies, she completed field work at both ENACT, Inc, a drama therapy program for high school students, and at Day One, a legal and social services agency serving young survivors of intimate partner violence. Prior to her work at SHARE, Anna served as Director of Student Affairs for the Bard Globalization and International Affairs Program in New York City. In terms of her clinical work, Anna is particularly interested in incorporating creative arts-based modalities, including those grounded in visual arts and writing. She is committed to honing her skills around providing evidence-based treatments for PTSD and trauma, and is currently pursuing training in Cognitive Processing Therapy (CPT).
Pronouns: She/Her/Hers
---
Freda Grant, MA
SHARE Advocate & Coordinator of Conduct Awareness Training and Prevention Education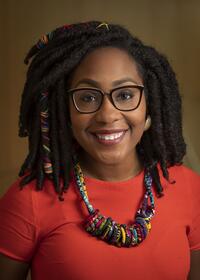 Role at SHARE: Freda joined the SHARE Team in July 2018. Freda specializes in Survivor-defined advocacy, which is an approach designed to center the individualized needs of survivors by letting them take a lead role in their healing process.
As the SHARE Advocate, Freda works in collaboration with Campus and Community-based resources to provide students with detailed options, so they are able to make their own informed choices. Freda also supports students interested in seeking Court-based services such as Restraining and Protective orders. Additionally, Freda can provide assistance with safety planning and connect individuals to outside community resources, if needed.
In her new role as Coordinator of Conduct Awareness Training and Prevention Education, Freda facilitates Prevention Education for both self-identified and university mandated students.
Background: Prior to coming to Yale, Freda worked as both an Intimate Partner and Sexual Violence Advocate and Prevention Educator in both the colligate and non-profit sector. Currently, Freda co-facilitates the Family Violence Education Program for court-mandated offenders through Connecticut's Court Services Division.
Freda holds a Bachelor's degree in Psychology and Ethnic Studies as well as a Master's Degree in Women's Studies from Southern Connecticut State University. Freda is a 4th year Ph.D. student in Public Policy at Union Institute and University. Her area of research traces the evolution of Intimate Partner and Sexual Violence laws and policies and addresses their specific impact on members of marginalized communities. Freda also specializes in addressing the multiple intersections associated with gender-based violence in communities of color. 
Pronouns: She/Her/Hers